Alpaca Information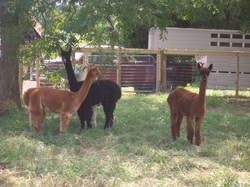 Autumn, Fiona, Oso and Nikki
Alpacas have been domesticated for over 5,000 years. Alpacas are members of the camelid family. They are closely related to vicunas, llamas and camels. Alpacas originate from the mountains of Peru, Bolivia and Chile and have been bred in South America for thousands of years. Alpacas are rare enough to be considered exotic livestock. The two types of alpacas are Huacaya and Suri. Both have fleece that are soft and virtually free of guard hair. The majority of alpacas are huacaya, whose crimpy fiber grows perpendicular to the skin and gives them a "fluffy" appearance. The fiber of the huacaya is soft and more uniform in length across the entire body. The lustrous, straight fiber of the suri fleece hangs down in "dreadlocks," giving the suri alpaca an entirely different appearance. The fiber of the suri grows in long, lustrous locks parting at the spine of the animal.

Alpacas produce one of the world's finest and most luxurious natural fibers. Soft as cashmere and warmer, lighter and stronger than wool, it comes in more colors than any other fiber producing animal (approximately 22 natural colors with many variations and blends). It is a soft, durable, luxurious and silky natural fiber. It is warmer than sheep's wool, not prickly, and has no lanolin, which makes it hypoallergenic and luxuriously soft on your skin. Alpaca is naturally water-repellent and difficult to ignite. Only the white fleece is dyed if custom colors are desired. Alpaca fiber is used for many purposes, including making clothing such as hats, mittens, scarves, gloves, sweaters, coats and more. Rugs and toys can also be made from alpaca fiber. We shear the alpacas once a year in the spring. One alpaca typically grows between three and eleven pounds of fiber.

Alpacas were first imported to the United States in 1984. Alpacas are now being successfully raised and enjoyed throughout North America and abroad. The lifespan of the alpaca is about 20 years and gestation is 11.5 months. Alpacas eat grasses and chew cud. Adult alpacas are about 36" tall at the withers and generally weigh between 100 and 200 pounds. They are gentle and easy to handle. Alpacas don't have incisors, horns, hooves or claws. Clean-up is easy since alpacas deposit droppings in only a few places in the paddock. They require minimal fencing and can be pastured at 5 to 10 per acre. The alpaca's feet are padded and they leave even the most delicate terrain undamaged as they browse on native grasses. The alpaca is a modified ruminant with a three-compartment stomach. It converts grass and hay to energy very efficiently, eating less than other farm animals. Alpacas do well on good quality forage and hays. Occasional supplemental feeds, vitamins, and minerals need to be provided as required. Clean drinking water is required at all times. Alpacas are vaccinated monthly and toenails are also trimmed monthly.

Shelter and fencing are necessary for alpacas. The shelter should be adequate for local conditions and allow the animals to get out of extreme weather; a three sided shed works to provide shelter from the sun, rain and snow. You must provide fans for summer heat and humidity relief so electricity to your shed is required. The purpose of fencing is more to keep predators out than the alpacas in. Alpacas do not tend to be escape artists or jump very high. 2 inch by 4 inch rectangular woven wire "no climb fence" is recommended. A board fence with wire fencing between the boards also works well. Electric fencing is not recommended for alpacas. Safe and secure fencing can be board, woven wire, field fence or the like; barbed wire is not recommended as alpacas are not "pushers" and it can damage fiber and cause injury.

Every alpaca has a unique personality. Some are very laid back while others are more inquisitive. In general alpacas are docile, quiet and intelligent animals. Like any animal, the more alpacas are socialized the more friendly they become. Alpacas can, and do, spit, however, alpacas rarely spit at humans unless seriously provoked. Spitting generally occurs between alpacas to assert dominance and during quarrels over food. Alpacas express themselves with a soft hum, other vocalizations, and with body language, such as neck posturing, ear and tail positioning, and head tilt. They have excellent eyesight and hearing, and will alert the herd and their human keepers with an intense alarm call of perceived danger. Alpacas are very herd oriented and must be kept in groups of two or more. If you can't have two or more alpacas, don't have any. Never keep one alpaca alone.

---