Owning Alpacas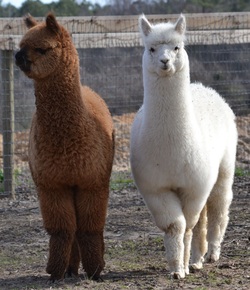 Rudder and Maverick
People raise alpacas for a variety of reasons - they can be enjoyed both as pets and as a business investment. There are many rewards to alpaca ownership. Alpacas offer an outstanding choice for livestock ownership. They have long been known as the aristocrat of all ranch animals. Most of all, alpacas have a charismatic manner, they do very well on small acreage, and they produce a luxury product which is high in demand. Alpacas are also fully insurable against theft and mortality. Insurance can be purchased for your stock regardless of age. Average insurance rates are 3.25% of the value of the animal, or $325 for every $10,000 of insurance. If you want to own alpacas as a business and not as a hobby, remember that alpacas are an investment and like any other investment there are associated costs and risks. Every farm is different. Do not expect people to break down your door just because you own alpacas. You must market your farm at festivals, farm markets, on the internet, advertising and much more to bring people to your farm. It takes a lot of work to be successful; the more you put into it, the more you will get out of it.

Many alpaca owners who have been involved in the alpaca lifestyle have found it both personally and financially rewarding. Please recognize, however, that owning alpacas involves significant financial risks, as does any business start-up. Your ultimate success will be determined by your own ability to market your animals, your fiber and finished goods, your employment of available resources within the alpaca industry, your communication skills, and your ability and willingness to provide top-notch customer service that results in a good reputation. It is impossible to guarantee the ultimate success of any business. Always check with your accountant and/or financial adviser when considering the tax advantages of raising alpacas. A very helpful IRS publication, #225, entitled "The Farmer's Tax Guide", can be obtained from your local IRS office.

---
Basic Alpaca Care

Know your animals and know the difference between normal and abnormal behavior. The best source of alpaca veterinary information is Dr. Norm Evan's book "The Alpaca Field Manual". This is a must for any alpaca breeder/owner. An important remedy to have on-hand is Banamine, which is dosed at 1cc per 100 pounds and given subcutaneous twice per day for no more than 3 days. You must talk to your own veterinarian about this and all other veterinary care before administration.

Dectomax Wormer:
All adult alpacas (along with crias over 4 month of age) must be wormed with injectable Dectomax or Ivomec every 4 weeks. Dectomax and Ivomec are dosed at 1cc per 70 pounds of body weight. Give the shots subcutaneous.

Rabies Vaccination:
Alpacas must have an ImRab3 Rabies vaccination once per year. Crias should be given rabies vaccinations at 6 months and
then once a year. Breeding females should get rabies vaccinations before breeding or post-partum before they are breed-back, not while they are pregnant. By law in the state of Maryland, your veterinarian must administer rabies vaccinations. This is the only injection the veterinarian must do; the owner can do everything else for regular alpaca care.

CD&T Vaccination:
Adult alpacas are administered a CD&T injection once a year and crias are given CD&T at one month, 2 months, and then once a year. Administer 2cc subcutaneous regardless of body weight. It must be kept refrigerated. Instead of the CD&T vaccination, some owners choose to give a tetanus toxoid shot once every three years. Each owner must do their research, talk to the veterinarian, and decide what is best for their herd.

Mineral Supplement:
Special minerals developed for alpacas/camelids must be available at all times to all alpacas. It is a free choice mineral supplement which they will eat when they need it. Keep the mineral mix inside the barn in a dry place and replenish as necessary.

Water:
Clean water must be available at all times. Frost free automatic waterers are preferred. Buckets must be raised off the ground so the alpacas can reach them but not be able to put their feet inside the containers. Alpacas love to play in water, especially when it is hot. Coccidia infections can be easily transferred if they contaminate their drinking water with dirty feet. There is also the risk of West Nile Virus with standing water.

Grass/Hay:
The best foods for alpacas are healthy green grass (preferably orchard grass and endophyte free soft grasses) and orchard grass hay. Good pastures are essential.

Alpaca Supplement:
There are several alpaca supplements available with Mazuri and Blue Seal being very accessible brands. Typically an alpaca will need approximately 8 ounces of supplement twice a day. Some thin alpacas may need more than this, and overweight alpacas may need less. You may need to increase feed during the winter months. Pregnant females who are nursing will also need more supplementation. You need to determine the amount of supplementation based on the needs of each individual alpaca at different times of the year.

Poop Removal:
Clean up the poop piles every day. Take the poop away from the alpaca field. Do not pile your poop inside the same field as the alpacas. This will minimize the potential for parasite problems and keep flies away in the summer. In my opinion, this should be your number one priority - it's that important.

Shearing:
Alpacas must be shorn once a year, preferably in April or May in our area. Alpacas can die from heat stress if they are not shorn. If you shear later than this, you risk the alpacas getting a severe sunburn in the summer. Bad sunburns can cause many problems including added stress and major discomfort for the alpaca.

Normal Basic Information:
Normal Temperature: 98 to 104 degrees
Adult Pulse Rate: 50 to 90 per minute
Cria Pulse Rate at Rest: 75 to 100 per minute
Respiratory Rate at Rest: 20 to 30 per minute (cria and adult rates)

Reasons to Call the Veterinarian:
1) Any alpaca that can not rise.
2) An alpaca with the inability to coordinate movement.
3) An alpaca with seizures.
4) An alpaca which has excessive drooling or vomiting saliva for more than an hour (Choke from grain is not uncommon). Some alpacas eat their supplement too quickly. Under these conditions, put large rocks in the feed bowl to help prevent them
from gobbling too much food in one swallow.
5) Any alpaca that does not eat for a day or has bad breath for more than 2 days.
6) Any adult alpaca who has diarrhea present for over 24 hours.
7) Any pregnant female experiencing labor for more than one hour.
8) Any pregnant female showing sign of discomfort for more than 3 hours.
9) Any animal with a temperature over 104 degrees. If heat stress is an issue, you may need to hose down the alpaca with very cold water, do some fast shearing of fleece, and give Banamine.
10) An alpaca mother which has given birth but has no milk or colostrum.
11) Any cria diarrhea which is present more than 24 hours.
12) Any female that is not pregnant after 5 or 6 breedings (after you have changed the male).
13) A newborn cria that can not stand within 3 hours after birth.